Monday till Friday 8.00-23.00
Saturday + Sunday 9.00-23.00
Rose Garden is an all-day food joint where healthy, delicious food including bowls, sandwiches, rolls, salads, and fresh-pressed juice is available all day long. Models of the bowls and salads can be found at the oval counter when you order, but don't worry- all food is prepared fresh on the spot!
The sandwiches are at the heart of Rose Garden, thickly cut and properly dressed in long loaves of baked sourdough or an alternative gluten-free bread. The breakfast bowls are a power team of nuts, fruits, and other healthy ingredients. The salads bring together what the season offers in decadent variations.
The waiting time should be ten minutes, at most. It's working. Waiting, eating, and drinking at the Rose Garden is like in a Nordic canteen. Scandinavian designers are setting the tone with their wonderful principle: Design should be both functional and aesthetic.
The ragged appearance is deceptive. Everything seems to work as part of a communicative, harmonious whole, which you neither can nor want to leave. If you're in a hurry, there's a stand at the entrance with take away coffee made using beans from Berlin roasting house Andraschko along with croissants, banana bread, and other hand-sized treats.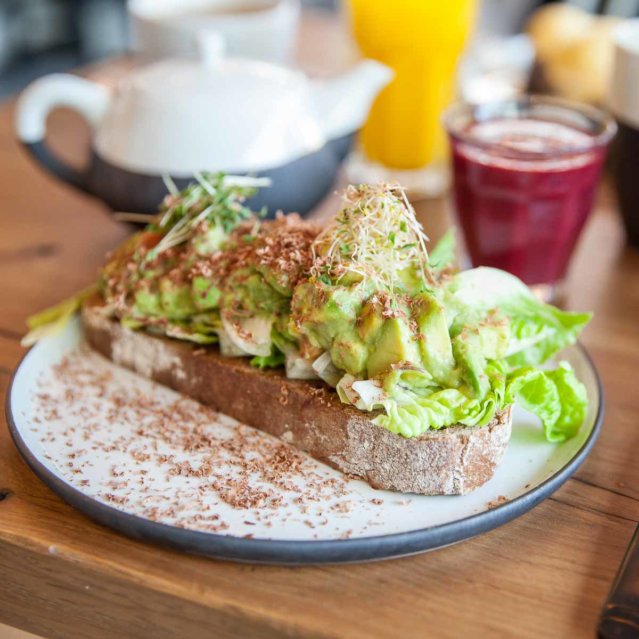 There's also a concept store with books, salts, oils, and even the dishes from Copenhagen used here at Rose Garden. It couldn't be more fitting that the fridge is full of rose water, a unique house creation made from local filtered water, Damascus roses, and stevia.
In the evening, the deli becomes a restaurant. Table service instead of self-service. But the dinner menu is available from midday. Autumn is currently being met with "Feel Warm", pumpkin ravioli with baby spinach, roast root vegetables, and parmesan sauce, and with "Lady in Red", tomato risotto with goats cheese, lemon, and thyme. And for two, there's a shared experience of the "Three of Five" main dishes. – Nice!